Experience you can count on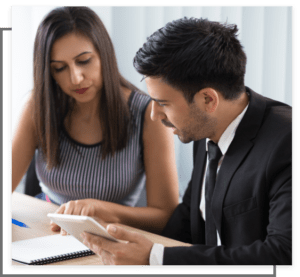 Our goal: Develop customized approaches to prepare teams to accelerate their impact.
Our expertise: 
Healthcare
Healthcare technology
Education technology
Physician and provider practice
Digital health
Employer health and benefits
Health and wellbeing
We work with young and mature companies, bringing a suite of quality services and access to a network that will help you achieve your goals quickly and smoothly. That is how we ensure your success.
Learn More
Our process is designed to empower you and your team, provide actionable solid plans, and support you with the tools you need to succeed. Talk to us today about how we can support your growth, improve your team performance, and put you on a solid track to success.
Education
Alice earned a BA in Accounting from Kentucky Wesleyan College, and her Master's in Health Administration from the University of Kentucky.
Personal Background
As a Kentucky native and one of 14 children, Alice is committed to supporting the commonwealth's entrepreneurial ecosystem and its founders and CEOs. She recognizes that growing up as one of 14 helped her develop the valuable people and teamwork skills needed for her entrepreneurial ambition. She attributes learning many of those skills to her father, who co-owned a grocery store chain in Henderson, Kentucky.
As a single mom, Alice loves spending time with her three lively daughters and sharing with them her joy of all things outdoors. She especially enjoys exploring and hiking National Parks, gardening and playing tennis.
Meet Alice
Founder & CEO of 4A Ventures
---
Alice Shade is a seasoned executive with nearly 30 years of expertise in business strategy and organization development, particularly in the technology and healthcare sectors.
Current Initiatives
As the Founder and current CEO of 4A Ventures, Alice consults with and manages a team of advisors to help small to medium-sized businesses grow through support in four key areas:
Strategy design and implementation
Leadership and team development
Financial operations
Business development
Among her successes since founding 4A Ventures in 2019 is the launch of a multi-million-dollar independent physician practice, which Alice supported by securing financing and establishing the systems and teams, all while guiding the owners through strategic decisions during the planning, implementation and growing phases. Additionally, she has helped CEOs position their companies to achieve exceptional growth in revenue and become national leaders in their industries. She has led strategic advisory councils—most recently for Everside Health—bringing forth actionable recommendations to improve the health and wellbeing of both the customers and the patients they serve.
Alice also currently serves as a Vistage Chair, leading a diverse group of CEOs and business owners who are looking to make impactful changes and spark significant growth. As Chair, Alice facilitates monthly group meetings and one-on-one coaching to help members establish their visions, ask better questions that lead to true thought innovation and build strong teams, organizations, and communities.
Among her other current roles, Alice serves as chair of ed-tech company Clover Learning, which is quickly becoming a leader in the educational-technology sector. Additionally, as an Entrepreneur in Residence at the University of Louisville, Alice works closely with professors and researchers to support their efforts on commercialization and acts as a liaison to connect them with like-minded investors in the community and beyond. During this work, she became part of the founding team of Awaken Digital Health Solutions, bringing real-time solutions for eating disorders to the market.
Healthstat engaged Alice Shade and her organization 4A Ventures to help pull together industry thought leaders as an advisory board that helped review our existing work processes to look for refinements and search for barriers and solutions to our quest of solving how healthy a population can be.
Working with Alice Shade became a must-have for our leadership team, and it helped position our organization as the true thought leader among its peers.

Previous Experience
Prior to founding 4A Ventures, Alice spent a decade as Founder and CEO of SentryHealth. Through fundraising and building strategic parternships, Alice led the technology-enabled health management platform firm from idea to a successful Series A. When she left in 2019, leading healthcare research institutions nationwide, including Johns Hopkins University, were using SentryHealth's programs.
In her time with SentryHealth, Alice earned several awards:
Greater Louisville Inc.'s "Fast 50" list
Kentucky Chamber of Commerce's 2018 Emerging Entrepreneur
Greater Louisville Inc.'s 2019 Inc.credible Health & Wellness Award
Worksite Wellness Council of Louisville's 2019 Worksite Wellness Gold Award
Prior to SentryHealth, Alice worked extensively on both the payor and clinical provider side at United Healthcare. With an in-depth understanding of the complexities of the healthcare industry, she was able to build and deliver meaningful products in a dual-sided market. Her clinical delivery and value-based payment model expertise led her to create and deliver mechanisms to improve health outcomes for patients and members. 
Throughout her professional career, Alice has also invested her time and expertise in executive roles at the University of Louisville Physicians, University of Louisville's Product Bootcamp Program, Launch-It, and Kentucky's Passport Health Plan.